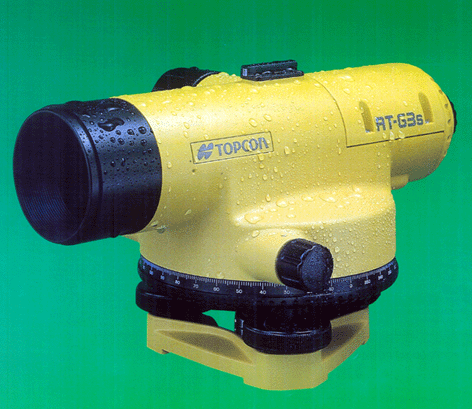 AT-G3S
Clampless
Fine Horizontal Adjustments
Fine horizontal adjustments are possible at any point through 360 degree (400gon) of the arc, without clamping action, which means that target alignments are greatly speeded up. Furthermore, fine horizontal knobs are available on both sides, for very easy and speedy adjustments.

Very short 0.5 meter focusing
This instrument has a short range setting position of 0.5 meter which is suitable for close range work carried out by builders and contractors.


Fast Instrument Set-Up
Very fast instrument set-up is possible because the base plate can be used for fixing on top of dome head tripods, such as the TOPCON Dome Head Aluminium Tripod.

Quality
High Quality Structure and feel of use will surely provide the satisfaction to any users. This product is produced in Japan.

Rapid, Stable Automatic Leveling
A time-proven magnetically-damped compensator is incorporated for automatic leveling action. It is not affected by fine vibrations and has been proven to have very stable precision, thus speeding up automatic leveling operations and producing accurate results.
The TOPCON-exclusive automatic leveling system utilizes four special mylar ribbons for hanging the magnetic damper compensator, which is, therefore, not influenced by the magnetic field, as well as having superior resistance to cold, heat and shock.





Waterproof Sealed Telescope Construction
The instrument has a completely waterproof telescope and is, therefore, ideal for all kinds of wet-surveying operations, in light rain or in tunnels.
Only test-approved telescopes are used and, furthermore, dry nitrogen gas is sealed in the telescope tube which effectively prevents lens clouding and moisture condensation.

High Visibility in the Field
The instrument is highly visible in the field because it is finished in bright yellow, for maximum visibility and safety.